We're thankful to the Barbara Peterson Ruhlman '54 Fund for Interdisciplinary Studies and the Mount Holyoke LYNK program for supporting this project.
Colonialism and Games
Colonialism seeks to both justify and valorize colonial domination, such as the ongoing domination of Native Americans by the United States of America.
Popular culture spreads colonialist beliefs.¹
Games can promote ideologies.²
Besides their 2D art, text, and sound, games include rules, also known as "mechanics."
Rules themselves can communicate messages, including colonialist messages.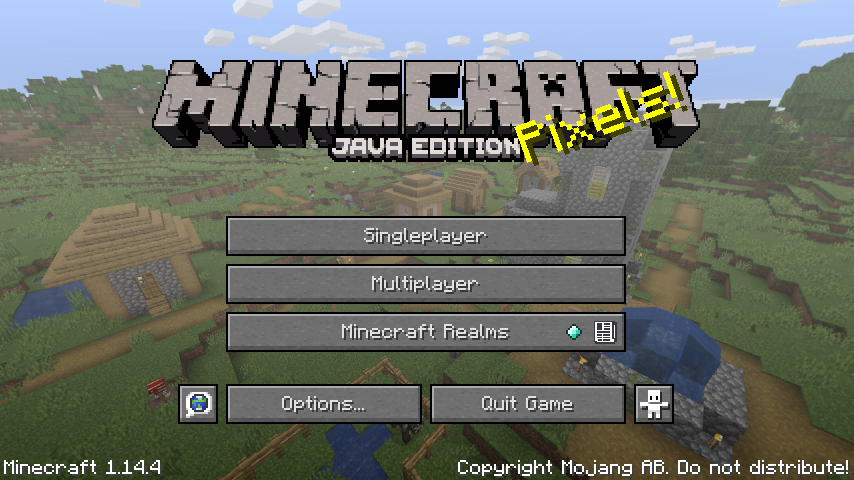 The Minecraft title screen.
Minecraft
The best-selling game of all time (>176 million copies).
A blocky world where any block can be mined.

Craft blocks into tools and other blocks.
Blocks can be placed to build things.

Generated terrain includes various climates, underground caves, and "natural resources" like ore.
Populated by passive animals, aggressive monsters, benign "villagers," and evil "illagers."

Animals include livestock, pets, and wild animals.
Monsters appear at night and attack on sight.
Villagers live in villages and can be traded with.
Illagers appear randomly and attack immediately.
Colonialist Myths
Game mechanics dictate what is true in the game world, and imply things about the real world.
Several Minecraft mechanics support colonialist myths which help justify past and present colonial domination.³
Accumulating Blocks
Ore is finite, but can always find more by moving on.
No large-scale consequences of extraction.

Reinforces myth that 'natural resources' are plentiful and extracting them is harmless.

Mass extraction is made easy due to enormous inventory.
Terrain and Exploration
Most generated terrain is uninhabited.

Reinforces myth of the 'wild/empty frontier.'

Villagers don't use land outside of their small villages.
Maps position player as discoverer.

Reinforces myth of Western 'discovery' of Indigenous territories as creation of new knowledge.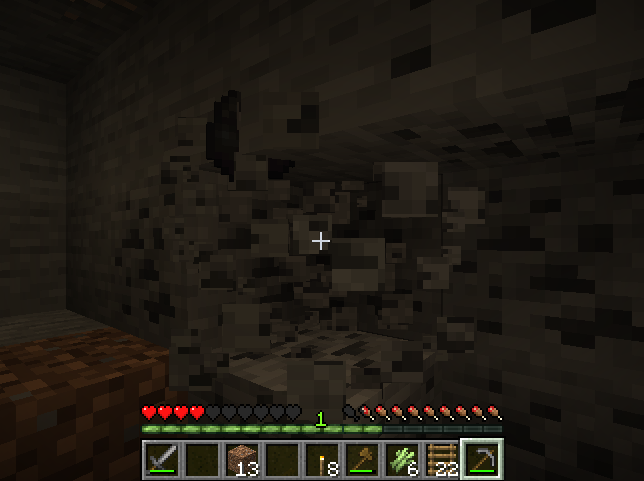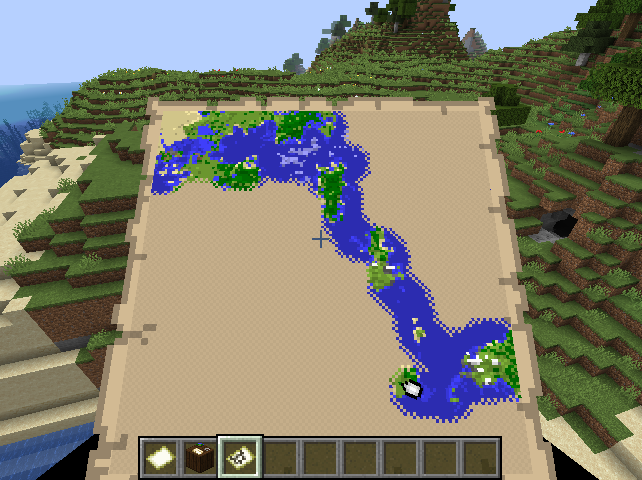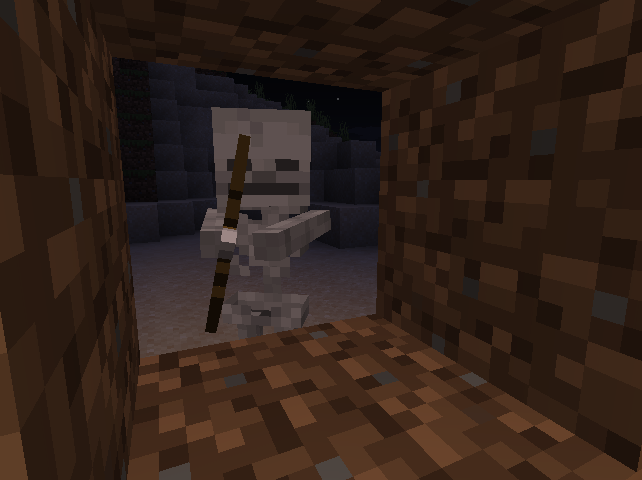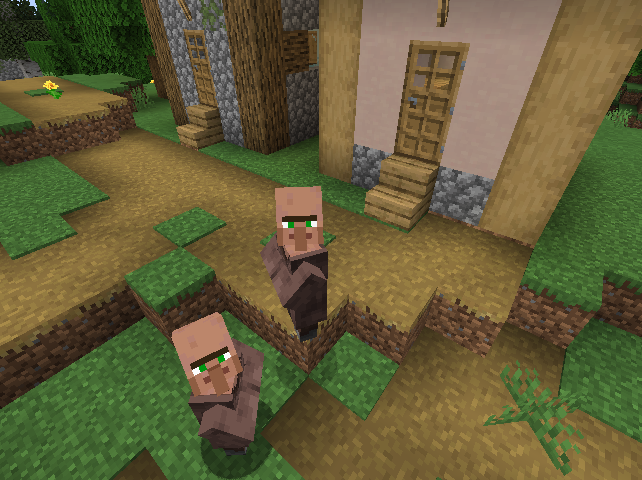 Clockwise from top left: 1. Mining coal; 2. A map being filled in;
3. A pair of villagers; 4. A skeleton monster.
Monsters and Illagers
Intelligent, but unconditionally attack player on sight.
Implies some creatures are inherently/irredeemably evil.

Reinforces myth that morality/behavior is biologically determined, and justifies aggression as self-defense.
Villagers
No combat, building, or crafting ability (despite living in constructed dwellings).
Not shown as builders of advanced ruins like shipwrecks.

Reinforces myth that Natives had no technology.

Depend on player for defense against monsters.

Ironically, monsters are only attracted by player.
Sets up player as "savior," villagers as beneficiaries.
Reinforces myth that Natives were helpless and therefore benefited from colonialism.
Advancements
Tutorial & achievement system rewards certain actions.

Incentivizes colonialist activities (even killing villagers).

Provides an overarching narrative of progress.
Impacts
Explicitly colonialist fantasies ("…who doesn't want to be all barbarian and destroy every village[?]" from the Minecraft Wiki tutorial on Colonizing).
Colonialist myths in education (for example, a "British Colonisation" lesson to teach about "what the settlers went through" in Australia on the Minecraft Education Edition site).
In addition to obscuring and distorting colonialist histories, these myths cause direct psychological harm.⁴
Similar mechanics exist in many game genres, because mechanics are often uncritically copied between games.