Problem Statement
Wellesley students throw away countless clothes and household goods every year because they are not able to find someone who could reuse the items. This waste presents a huge problem for sustainability on our campus and an opportunity to decrease wasteful behavior and increase the life and utility of these goods.
Scenarios
Amy and the Mattress Pad
Amy is relaxing on her bed in the Claflin dormitory at Wellesley College. While sitting there, she grumbles about how uncomfortable college beds are and realizes she should have brought a mattress pad to college. As a first year, Amy hasn't bought anything on Welletsy before, but she had previously downloaded it on her phone when an upperclassman friend told her about it. She decides to open Welletsy to try to find a cheap mattress pad on the app.

The home page shows trending and recently added items, as well as the various categories available. Amy looks over the items but wants to search more specifically for the mattress pad. She clicks on the search icon and selects the "dorm goods" category. Amy sees the filter options but doesn't select any since she wants to view broad results. Once Amy enters the search, she sees that there are 5 different mattress pads on sale on Welletsy. Amy browses through the results and decides to go with the memory foam mattress pad that a junior at Wellesley is selling for $20. She is surprised to find such a great mattress pad for such a low price.

Amy clicks on the mattress pad and looks over the more detailed seller & item information. Everything still looks good, so she decides to message the seller about buying it. Amy clicks the message seller button and views several pre-written message options that make messaging faster and easier. Amy clicks on the one that says "Hi! I'm interested in buying your mattress pad. Could I come check it out? And if so, when works for you?" Amy sees that she has the option of editing the message but decides that it sums up her intentions correctly, so she clicks send and waits for the seller to get back to her. Within the hour, the seller responds and they coordinate a time to meet up through the message function on Welletsy.

Offline, Amy meets with the seller in the seller's dorm on campus and purchases the mattress pad. Later, when she is relaxing on her newly comfortable bed with her awesome mattress pad, Amy opens Welletsy again and sees a pop up asking her if she wants to rate her mattress pad seller. She remembers how she was very happy about the interaction and rates the seller five stars. She then sees the option to add a comment and writes a quick review: "This was great and I love my new mattress pad!"
Diane and the Road to Study Abroad
Diane is busy preparing to study abroad at Wellesley College. She takes a look around her dorm room and sees that her hoarding problem has gotten out of hand over the years. Especially in her closet, bursting with clothes that she had never even gotten the chance to wear. Diane comes to the conclusion that she needs to give up at least half of the clothes in her closet in order to have enough room in storage while she is abroad. She is interested in selling her clothes at a low price and as quickly as possible, since time is running out before the semester ends. Diane needs to run off to one of her classes at MIT soon, so she doesn't have a lot of time to start selling, but she eyes a particularly unused jean jacket and decides to put it up for sale in her downtime before catching the bus.

Diane opens her mobile app Welletsy. She has used the app several times before, so she is pretty familiar with it. The home page shows trending and recently added items, as well as the various categories available. With limited time to post her jacket for sale, she presses on the add icon on the bottom menu, which places her on a new page where she can make a new posting. Here, she uploads photos of her jean jacket and inputs the name "NEW Jean Jacket." She writes a description: "BRAND NEW, unworn jean jacket that is perfect for wearing out during the cool, fall nights! Please give this jacket a nice, new home." And adds a price of $10. Once Diane finishes all the input fields, she selects a use level of "New" on the page. Scrolling even more down, she checks off the jacket as having Venmo ability, but does not check off the try-on ability because she doesn't have time to meet with someone to let them try on the jacket. Finally, Diane presses the "Sell!" button located at the very bottom to complete her first listing of the day. Her jean jacket is now available on the Welletsy market to all Wellesley College students and alums.

Within a few minutes, Diane gets a notification saying that she has two new messages on Welletsy. She checks the app and sees that two students have messaged her on the message page of Welletsy. She clicks the message icon on the bottom menu and reads the first student's message. She is ready to sell to her, but when Diane sees the second student's message, she reads that the second student is willing to pay $15. Pleased by the price increase, Diane decides to sell the jacket to the second student and clicks the reply button. Diane sees that there are several pre-written message options that make messaging faster and easier. She clicks on the one that says: "I'd love to sell to you. What time can you pick it up?"

After the she and the buyer arrange a time through the Welletsy messaging function, Diane meets with the buyer offline, sells the jacket and collects payment. Later in the day, as she sits on the bus on her way to MIT, Diane receives a notification reminding her to mark the jean jacket as "sold" on Welletsy. She opens the app and goes to her jean jacket posting. She clicks the "mark as sold" button and smiles, knowing that she has one less item on her selling to-do list.
Emily and her New Business Adventure
Emily is a semi-professional photographer with many people hiring her for her services on the side of her activities as a student. It's a fun way for her to exercise her passion and make some spending money too. She has just finished two long weeks of midterms and finally sees some available downtime on her calendar to work on her photography business. As she is sitting in her dorm room after her last midterm, Emily decides that she would like to arrange a few photoshoots with Wellesley students in the coming downtime and starts to think about how she can get the word out. She has never explicitly advertised her business with students, but she remembers hearing about an app called Welletsy, where people can buy and sell goods and services. She decides to check it out and downloads the app. Emily is excited to check out this great outlet to market a detailed account of her available photography services.

Emily is most interested in creating her own user profile that will showcase her photos, as well as provide her with an appealing platform for potential clients. She opens the mobile app Welletsy, and is asked to create a new profile as a new user. Emily wants to make an awesome profile for her new shop. She uploads her profile photo, a cute photo that shows off her photography talent and fits with her brand. Then, she enters in her name "Emily Wang," her wellesley email "ewang2@wellesley.edu" and her residence hall "Munger." Emily writes a description for her profile, a paragraph about her passion as a photographer and how thrilled she is to take photos that capture the spirit of her fellow Wellesley students.

Emily hopes that this new profile on Welletsy will help her connect with new students and their business. As she moves on to making her first posting, she is filled with renewed excitement about photography.
Preliminary Interface Designs
Design 1: Clean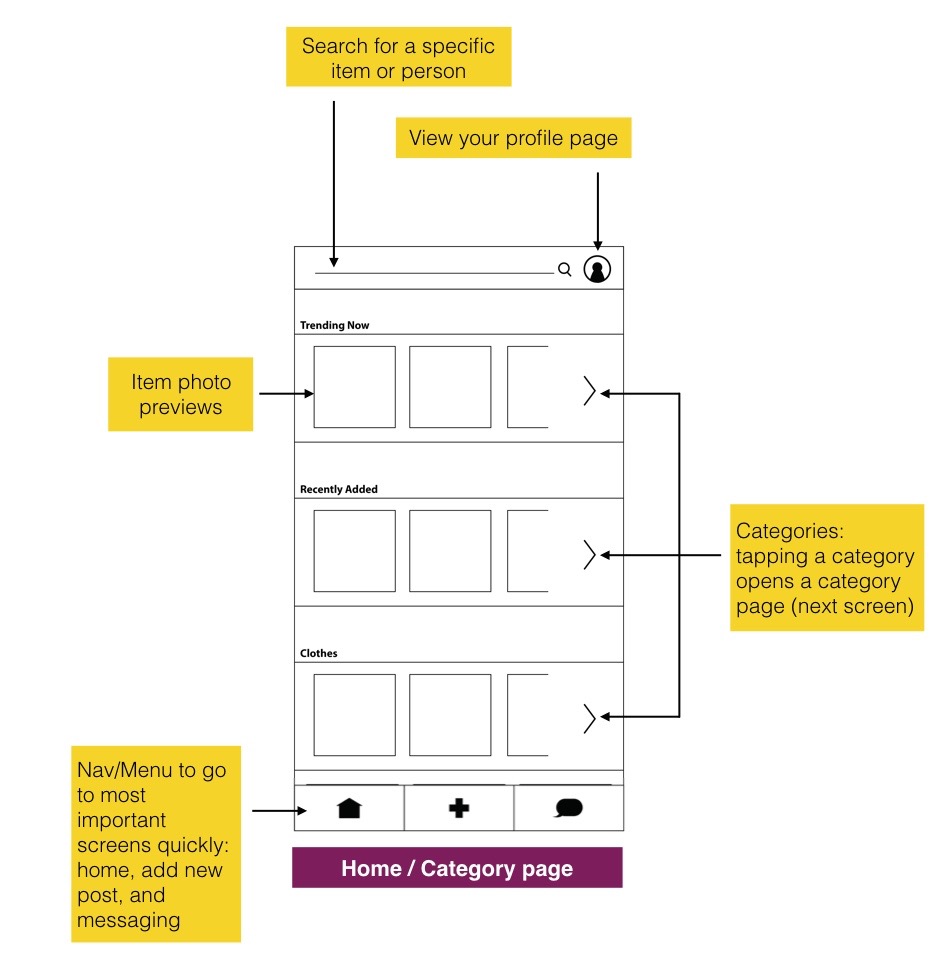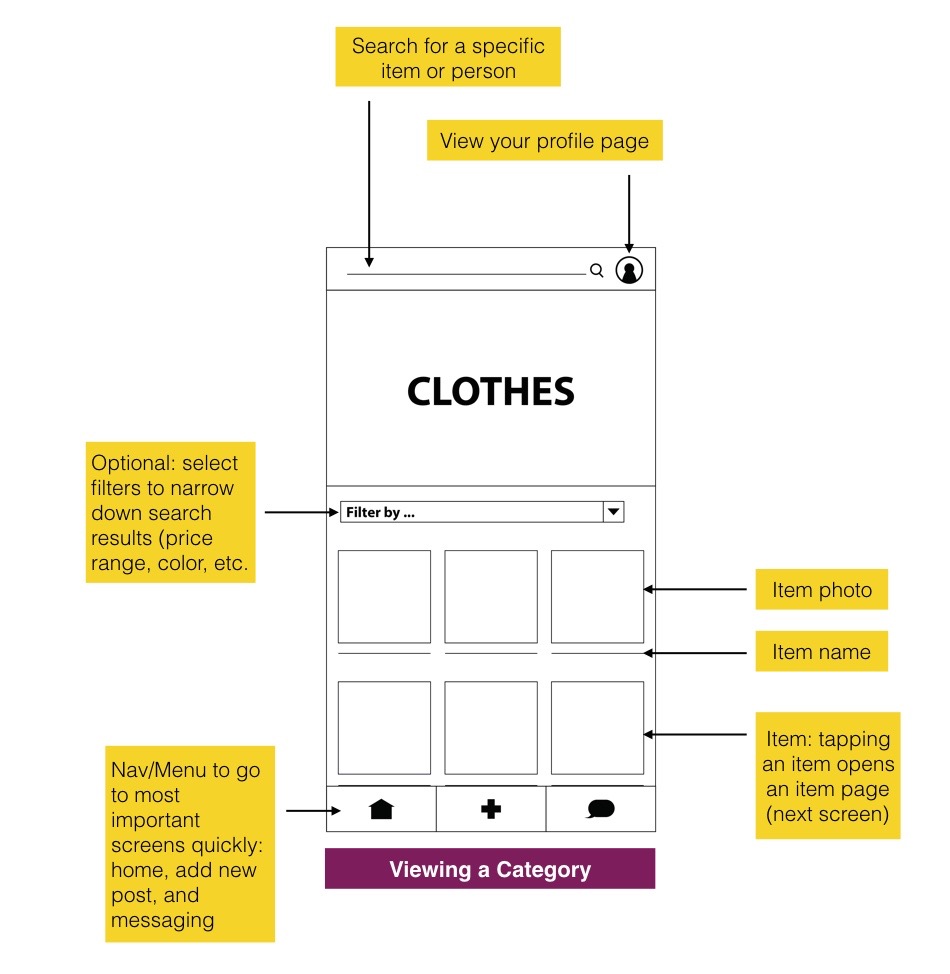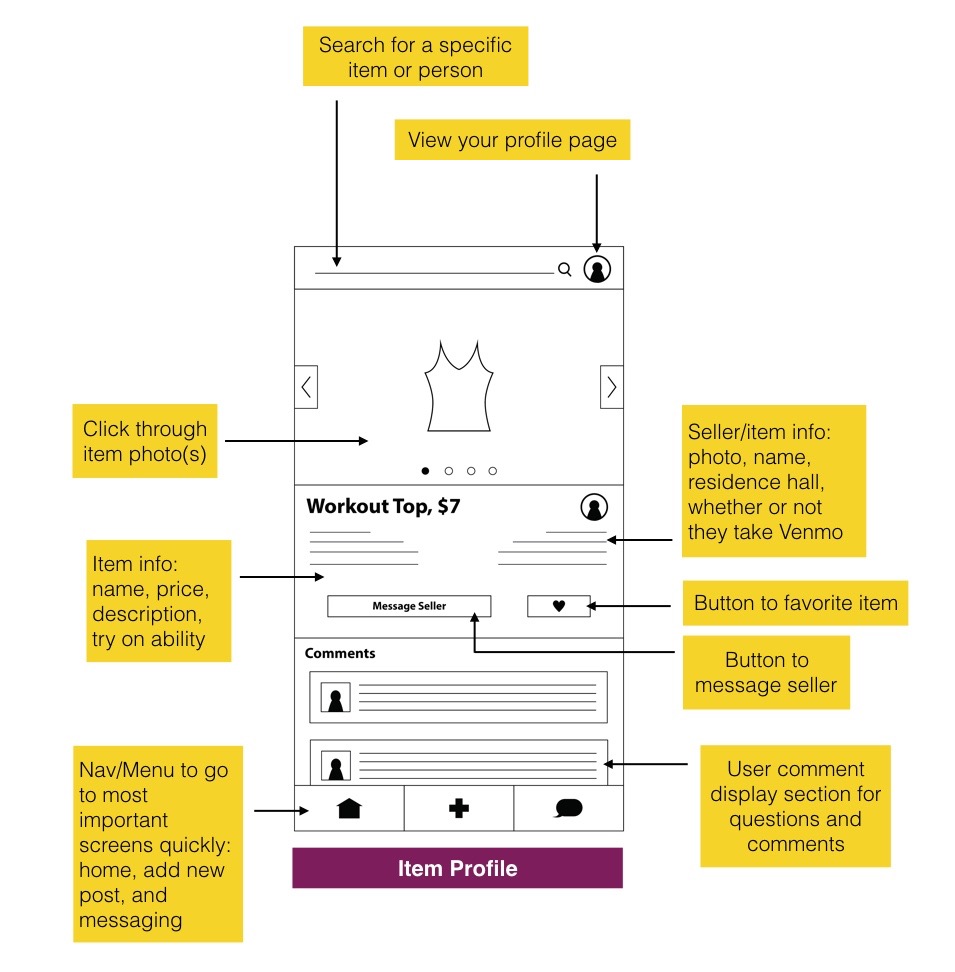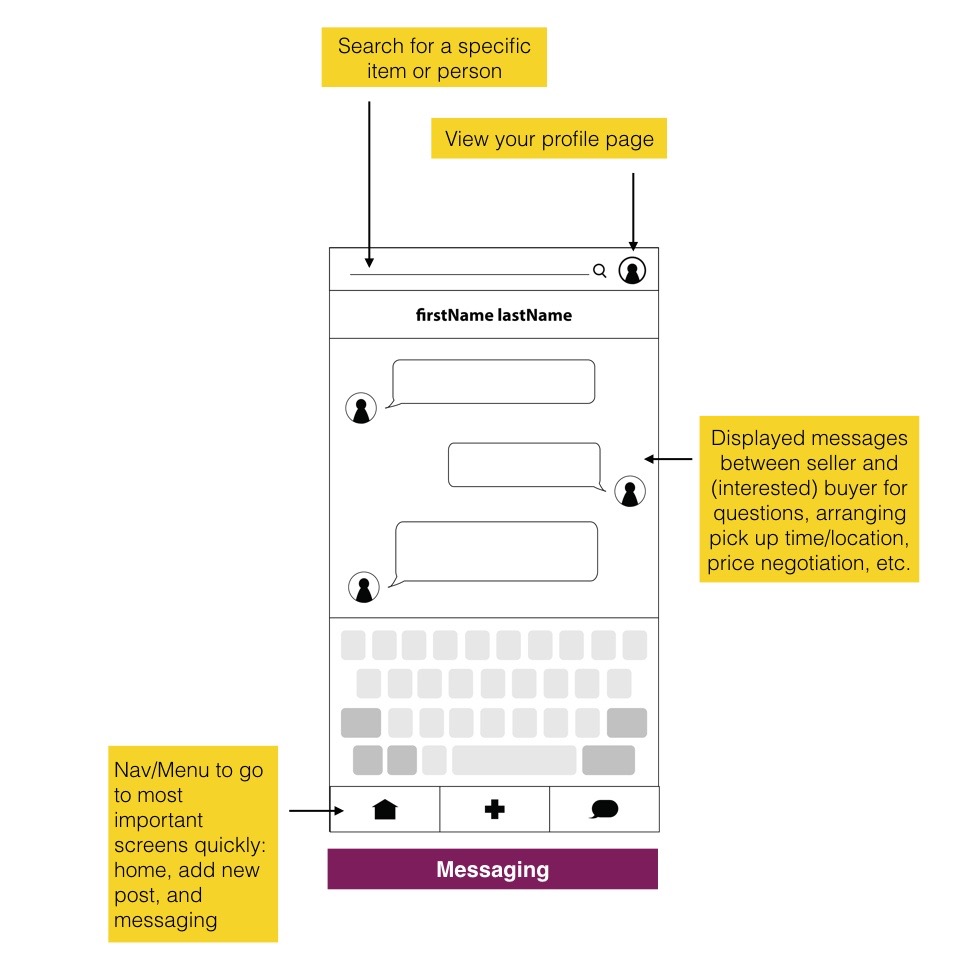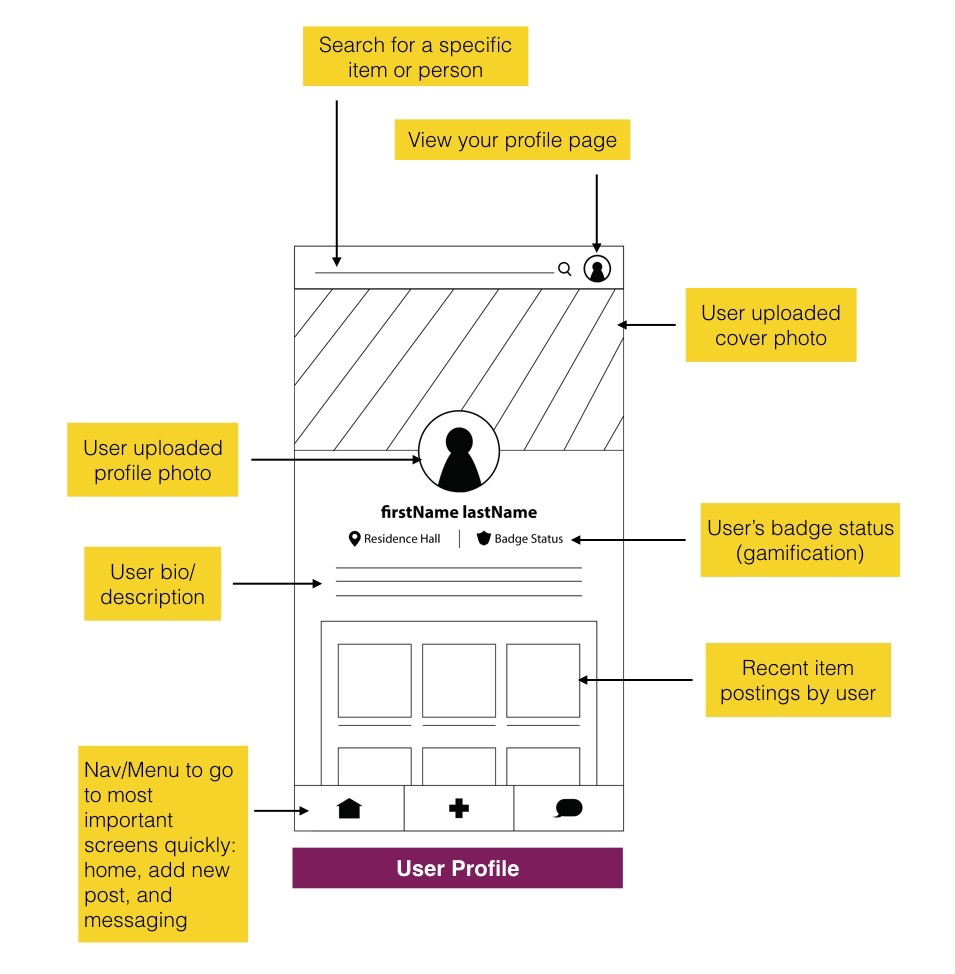 Design 2: Personal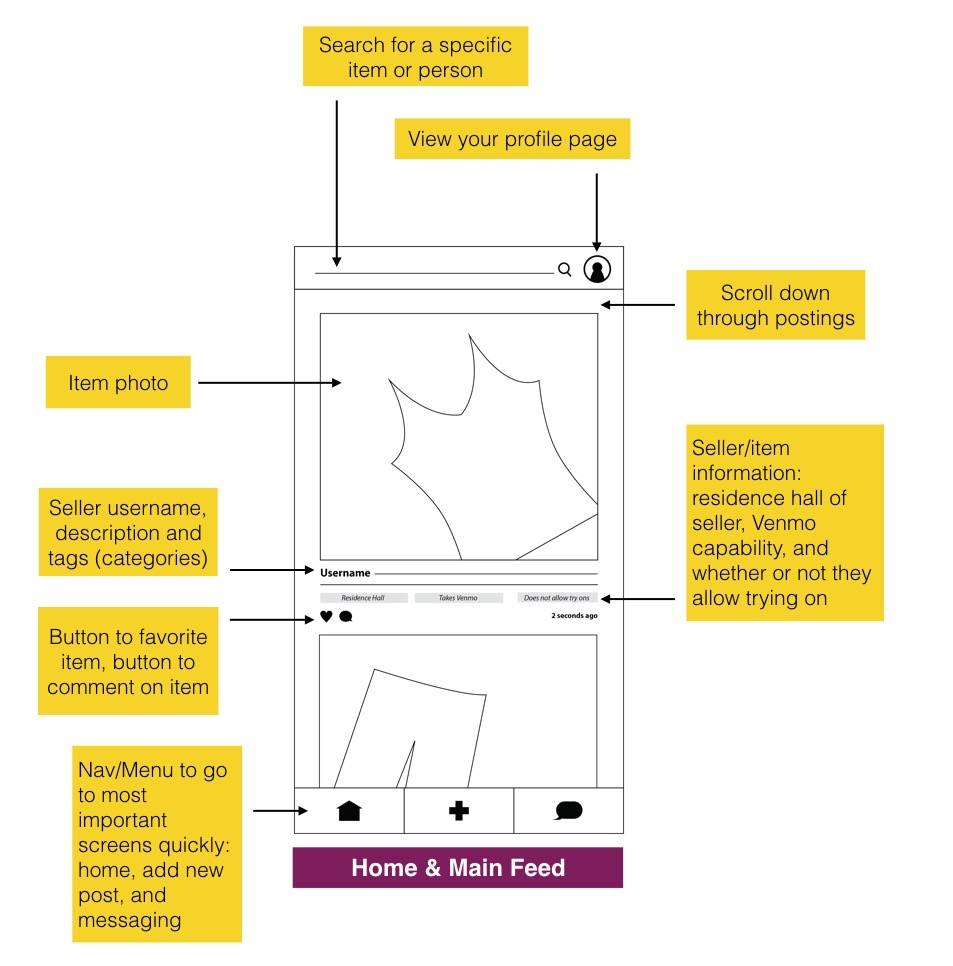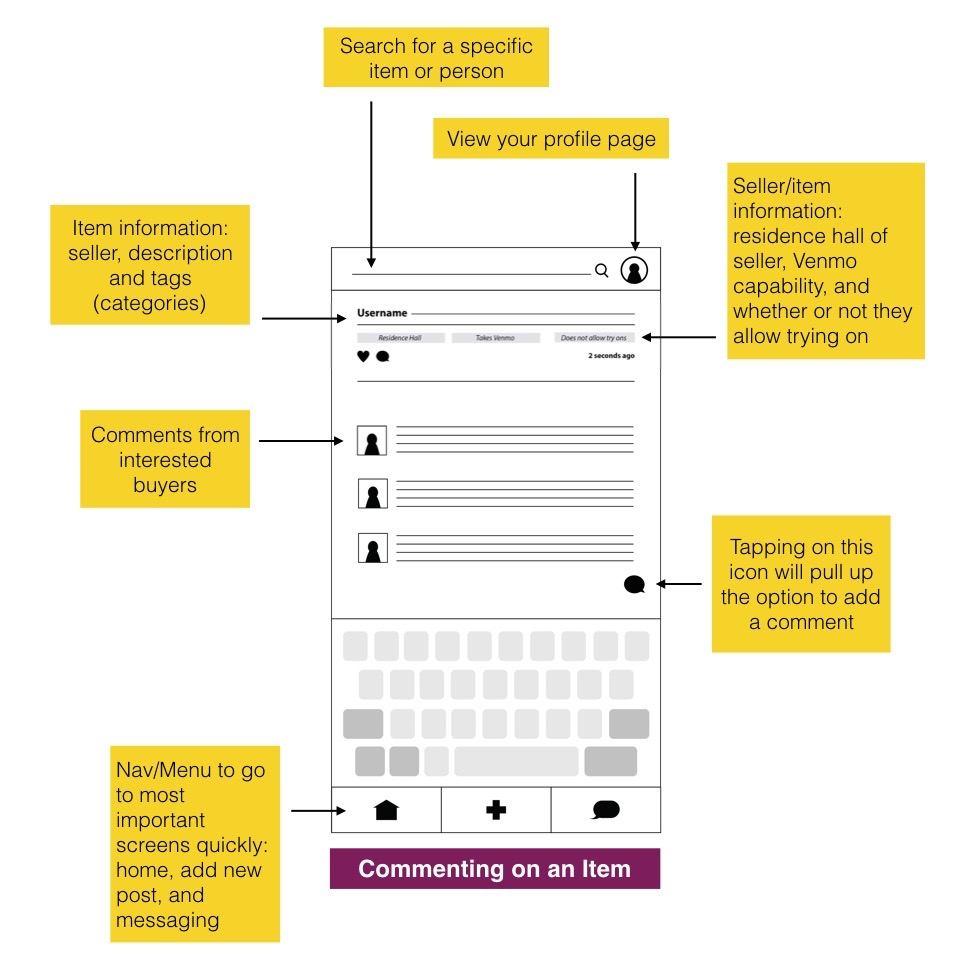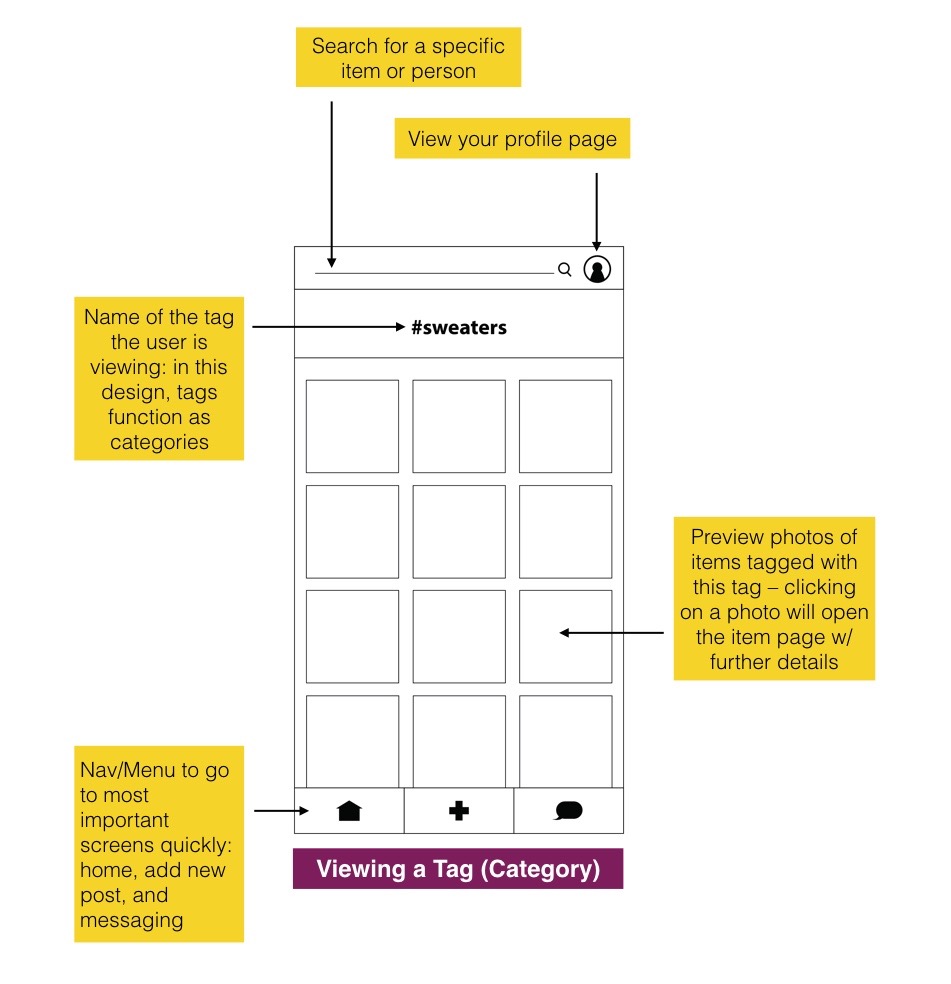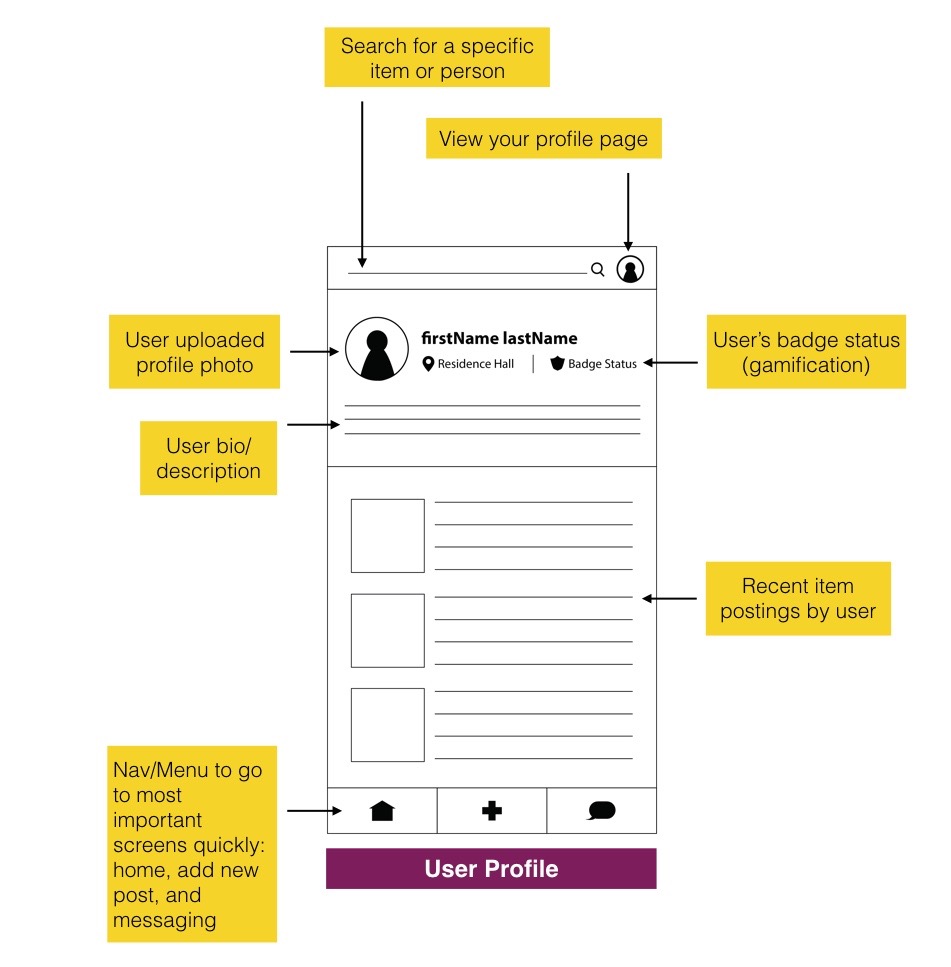 Storyboards
Scenario A: Design 1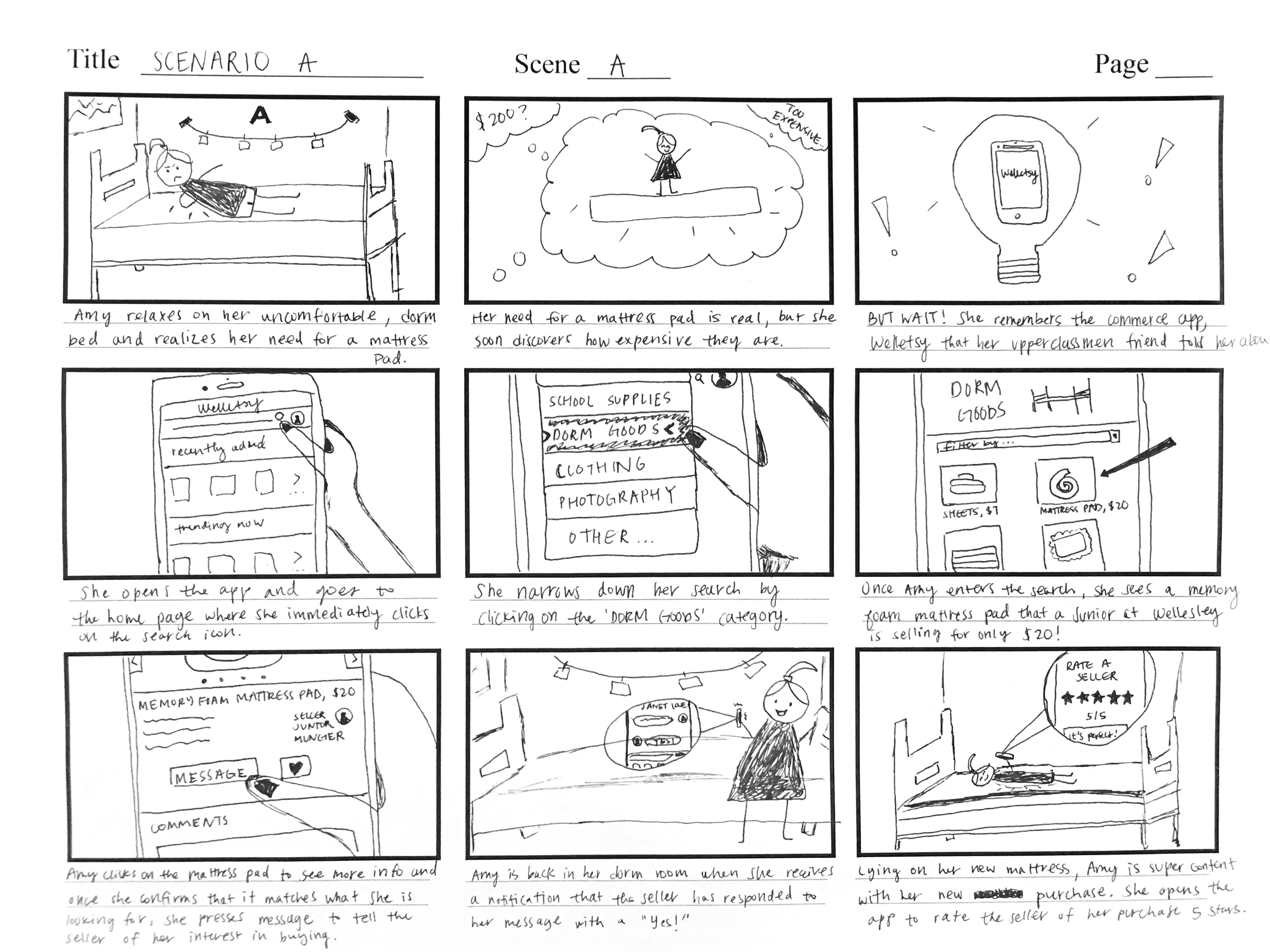 Scenario B: Design 2