It's Saturday and Mary decides that she wants to go to Boston that night to meet her friend in Back Bay. Mary is at Dead Serious practice in Lake House from 7pm to 8pm when she decides that she wants to take the 8:05pm bus from the Alumnae Hall stop. This gives her just enough time to run from Lake House to Alumnae after practice. However, all the tokens she bought on Free and For Sale turned out to be counterfeit and were confiscated by Student Life last week. In addition, the token machine in Lulu is broken and the bookstore closed at 6pm. Mary definitely does not have time to run all the way to Stone-Davis before the bus arrives. She bemoans the fact that her plans have been thwarted by the token system yet again, which prompts her teammate, Cat,to recommend the myPeter app. Out of options, Mary downloads the app, which only takes 45 seconds as opposed to the 15 minutes it would take her to run to Stone-Davis and back. Mary opens the app, and is able to register her debit card quickly in the app since she always has her card on her for emergencies. Next, she navigates to the purchase screen, where she selects (2) tokens and her saved credit card information. The entire process takes about 2 minutes, and allows Mary to purchase her token without leaving practice early for the 4th time that week.
Design One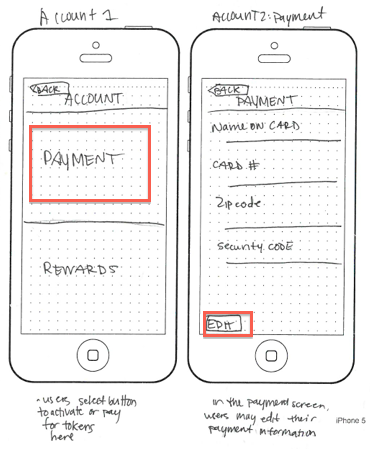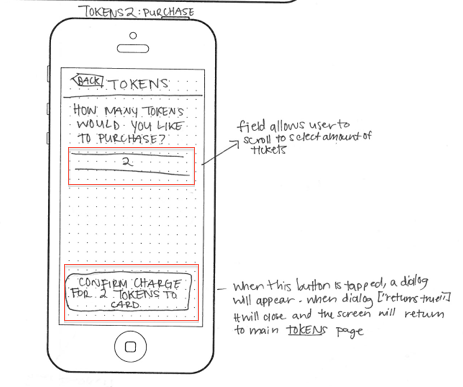 Design Two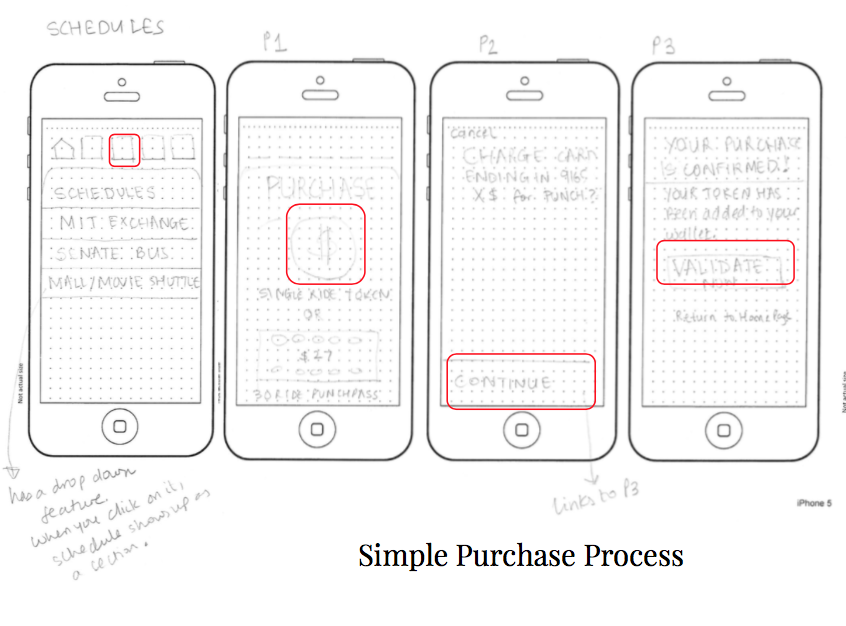 Rewards and Account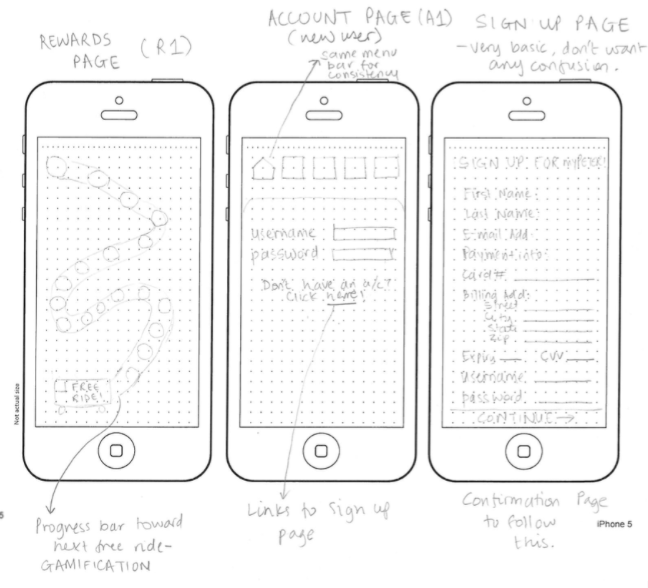 Close
Mary is in Back Bay and needs to go back to Wellesley. Mary has lost her credit card somewhere between her friend's dorm at BU and the restaurant where they got dinner. Mary does have $3 in cash stashed in her coat pocket for an emergency token, but she is unfamiliar with the area and does not know how to get to Marlboro Market, where tokens are sold at a significant markup. Riders are not allowed to pay in cash onboard, and the driver could lose their job if they accept cash. Luckily, Mary had already purchased her token for her return trip using the myPeter app during practice. She makes a mental note to thank Cat for suggesting the myPeter app, and to recommend the app to all her Wellesley/MIT friends. Mary notices that it is 11:45, and the bus will come to the stop at midnight. It's cold outside, though, and Mary doesn't want to walk to the bus stop to wait for the bus in the cold if it's just going to be late. Instead, she decides to open up myPeter and use the real-time tracker to check if the bus is running on time. Mary notices that the bus is running two stops behind, and avoids standing out in the cold for an extra 20 minutes. 20 minutes later, she checks the app again, and realizes that the bus is almost to the Back Bay stop. Mary leaves for the stop. When she gets on the bus, the driver asks to see her token. Mary pulls out her phone, opens up myPeter, selects "Validation", and clicks "Activate Token". Once activated, the token is good for a few hours until it expires, or expires once the driver clicks "Validate Token". Mary shows the phone to the driver - the screen will either be flashing the date of activation and playing an animation of a gradient shining from blue to black and back again, or it will show a single-use QR code. The visuals make it difficult to forge a token or use the same token twice, because a screenshot won't yield the correct date or animations, and to make a counterfeit GIF would require making a new one everyday with the correct date which seems excessive for casual bus riders. The QR code makes it difficult to forge tokens because a QR code can only be scanned once. The driver hits the button "Activate Token", and the token expires. Mary takes her seat, and safely returns to Wellesley.
Design One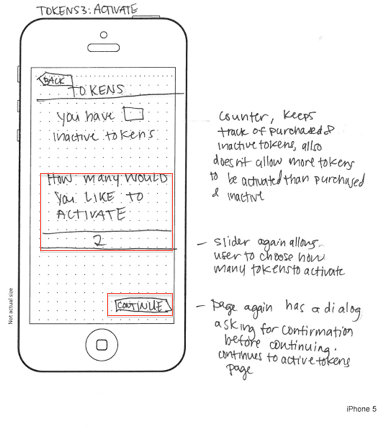 Design Two

Close
Mary had a great time in Back Bay on Saturday, and wants to become familiar with the other parts of Boston, too. She finds a great donut shop in Union Square, and wants to plan an excursion with her friend Carlyn for next Sunday morning. The shop opens at 11am, so Mary's initial idea is to take the 10am bus from Wellesley. However, she does vaguely remember overhearing that the bus runs on a different schedule on weekends. She doesn't want to miss the bus, so she googles "wellesley bus schedule". Her straightforward search innundates her with information, only some of which is helpful. The first link directs her to a website made entirely with block elements, and she cannot read the schedule without scrolling side-to-side repeatedly. The constant swiping causes her to keep losing her place and gives Mary, who struggles with migranes, a headache. She then remembers that her myPeter app has a "Schedules" tab with all the information she needs to plan a Boston journey, and opens the app. She navigates to the "Schedule" page, and selects the "Senate Bus" tab. This brings her to an easy-to-read set of schedules, one for weekdays and one for weekends. The schedules don't trail off the page and require annoying scrolling. They've been formatted specifically for mobile screens and minimize eye strain. Mary checks the weekend schedule, and realizes that she needs to take the 9am bus to arrive at the donut shop by opening time. Additionally, she finds that the bus does not go to Union Square. Mary and Carlyn will need to take the T, but they are both from Minnesota and are unfamiliar with the MBTA subway system. Mary goes back to the "Home" page, and selects the "Maps" tab then "T Map" button. This displays a static map of the MBTA T routes, making it clear to Mary that she needs to follow the Red Line from where the bus lets off at Kendall to the Porter stop. She and Carlyn can walk from Porter to Union Square. Mary is pleased that she didn't need to leave the app to figure out transportation details, and could do everything from buying 2 more tokens to planning the logistics of her trip in one location.
Design One
Only design one incorporates this feature.




Close