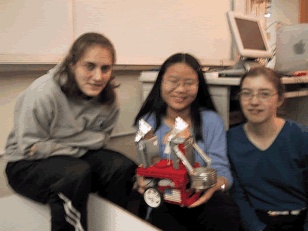 Betsy, Zi, FELIX and Jennifer
Zi Dong Fan ('04) - Zi is an enthusiastic Computer Science/Math double major. She likes the robots in the Jetsons because they are just so cute!
Betsy Masiello ('03) - Betsy is a Computer Science major. Her favorite movie featuring a robot is A.I. because it's so bad that it made her laugh until her stomach hurt.
Jennifer Langer ('03) - Jennifer is a Classics major and Computer Science minor. Her favorite robot movie is Short Circuit. Number 5 is the sweetest natured weapon of mass destruction she has ever heard of.
The creators would like to thank Lyn and Robbie for all their help and advice.
We would also like to thank Lego for the neat building blocks.
---
Jennifer Langer, Zi Dong Fan & Betsy Masiello
Date Created: 1/18/02
Last Modified: 1/25/02