HyperText 2020 Conference
Authors: Anna Kawakami, Khonzodakhon Umarova, Jennifer Huang, and Prof. Eni Mustafaraj.
Title: The 'Fairness Doctrine' lives on? Theorizing about the Algorithmic News Curation of Google's Top Stories.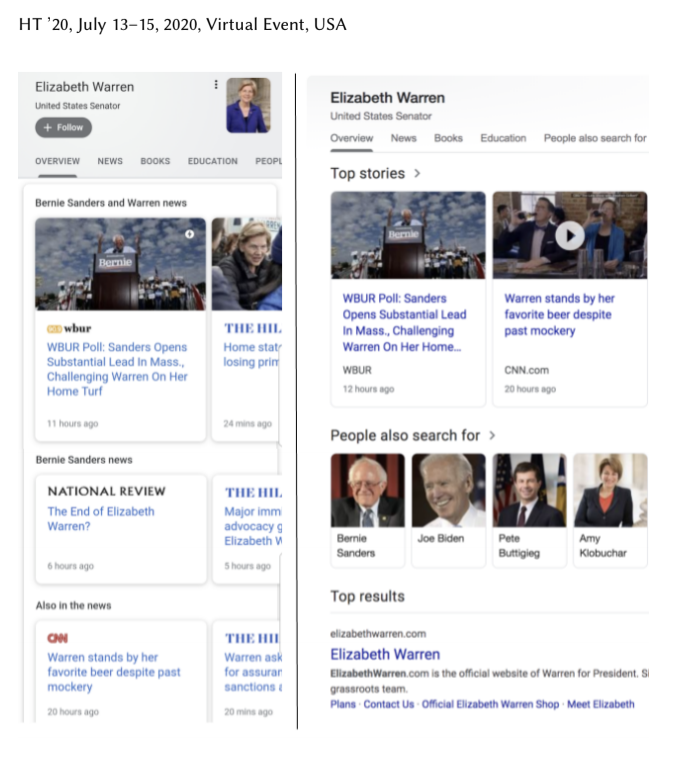 Abstract:
When one searches for political candidates on Google, a panel composed of recent news stories, known as Top stories, is commonly shown at the top of the search results page. These stories are selected by an algorithm that chooses from hundreds of thousands of articles published by thousands of news publishers. In our previous work, we identified 56 news sources that contributed 2/3 of all Top stories for 30 political candidates running in the primaries of 2020 US Presidential Election. In this paper, we survey US voters to elicit their familiarity and trust with these 56 news outlets. We find that some of the most frequent outlets are not familiar to all voters (e.g. The Hill or Politico), or particularly trusted by voters of any political stripes (e.g. Washington Examiner or The Daily Beast). Why then, are such sources shown so frequently in Top stories?
We theorize that Google is sampling news articles from sources with different political leanings to offer a balanced coverage. This is reminiscent of the so-called "fairness doctrine" (1949-1987) policy in the United States that required broadcasters (radio or TV stations) to air contrasting views about controversial matters. Because there are fewer right-leaning publications than center or left-leaning ones, in order to maintain this "fair" balance, hyper-partisan far- right news sources of low trust receive more visibility than some news sources that are more familiar to and trusted by the public.
Click here for the full pdf version.
Click here to go to the news post about the HT 2020 Conference