CS112: Lab 1 :: Introduction to MATLAB
MATLAB desktop and interactive environment
Getting started:
On a Macintosh, start MATLAB by clicking on this icon:




How to find MATLAB on a Wellesley public computer:

Macintosh:

From the Go menu at the top of your screen, select Applications
From within the Applications folder, find the icon labeled MATLAB_R2014a
Double-click on this icon to start MATLAB

PC:

Click here for how to find MATLAB on a PC.
Important parts of your MATLAB screen:
---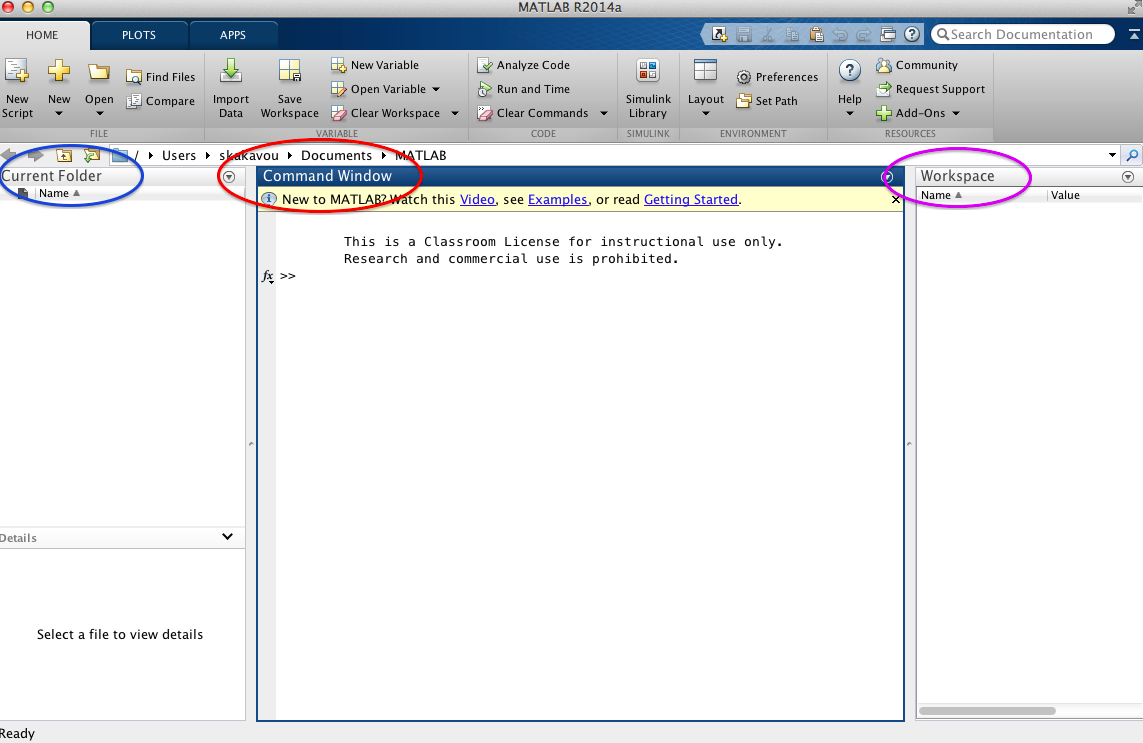 Command Window
(circled in red)
Where you type your commands
Current Folder Window
(circled in blue)
Allows access to current directory
Workspace
(circled in magenta)
Variables (more on this later) are tracked here
---
Download the lab1 folder from cs112 download directory
First, we'll use Fetch to connect to the CS server.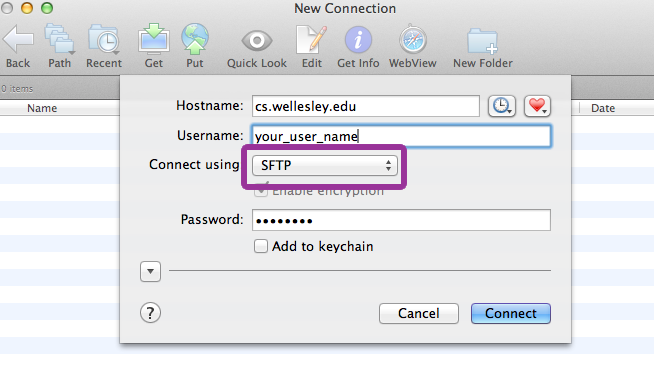 Make sure that SFTP is selected from the drop-down menu (outlined above in purple). Directions for Fetch are here. For documentation using WinSCP on a PC, click here.
Connect to the cs server using your own user name and password. Then, use the Path button on the Fetch window, to navigate to the root of the file system (/), and then down to
/home/cs112/download
where you will find the material available for downloading. This is where you will find files that you need for labs and assignments throughout the semester.
Download a copy of the lab1_programs folder onto your desktop.
Rename the folder to be yours, e.g. stella_lab1_programs.

---
:: Helpful hints ::
Resize

your MATLAB window via the lower right corner


Restore

your MATLAB window
If your MATLAB windows somehow change their appearance, you can always restore the default setup by clicking on on the top tool bar.

Reduce

extra blank lines
By typing

format compact

into your Command Window

Use the

arrow keys



Use the up-arrow key to get the command history. The left and right-arrow keys can help you edit within a line.

Recycle

content from Command History pop up
You can double-click a command in the Command History pop up, to run it again. (faster and more accurate than re-typing!)

Clear

the command window


clc

clears the command window

Comments

in your code


%

indicates a comment. MATLAB ignores everything after the

%

sign. For example:


% CS112 Lab 1


is a comment. Note that comments in the MATLAB editor appear

green

(but you can customize the MATLAB appearance).
---
Let's work with MATLAB now:
---
Exercises
---
Uploading your saved work
We'll use Fetch again, but this time you will access your own personal account and password. This time, login to Fetch using your username (the one you used when filling out the account request form, probably the same username as your wellesley username).
Browse through your account, finding the drop/assign# folders
Learn how to delete a file from your account
Upload your

xxx_lab1_programs

folder from your Desktop into your personal cs112 account
When done uploading, be sure to delete your

xxx_lab1_programs

folder from the desktop (by putting it in the trash can) and then empty the trash (Finder--> Empty Trash).
Exit out of MATLAB when done