Përshëndetje! (Hello!)
I am an Assistant Professor of Computer Science at Wellesley College in Wellesley, MA, USA. Wellesley College is a women's liberal arts college, and I love teaching here, because I can contribute in educating the women who will change the face of computational technology. To learn about the courses I teach, visit the teaching page. I study web-based, socio-technical systems, and currently I'm interested in the problem of assessing the credibility of online sources. Visit the research page to learn more. During my time at Wellesley, I have been fortunate to work with a large number of extremely talented and creative Wellesley students. They are a constant inspiration.
Due to the current political situation, I feel it's important to state that I'm proud of being an immigrant (as there are several of my colleagues in the CS department). I came to the States in 2007, as you'll read in the about me page. Finally, extras.
I am in the editorial board of The Spoke, an Albright Institute faculty initiative. Please get in touch if you would like to contribute to The Spoke.
If you are a Wellesley student, who would like to chat about research, courses, books, project ideas, or anything else, please feel free to book an appointment slot (or more) in my Calendar page.
Department Photo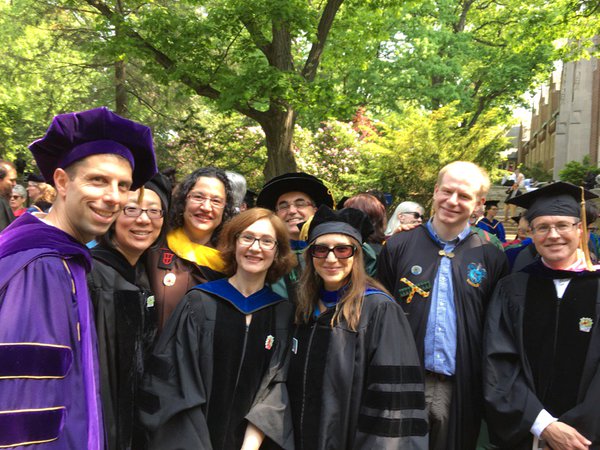 News
March 25, 2018
Our paper that investigates the effect of Google's SERP on assessing the credibility of online news sources was accepted at WebSci'18. Emma Lurie '19 will present it.
February 14, 2018
The Spoke published a blog post I wrote in late January, titled Don't blame the computers!
February 12, 2018
Received an NSF CAREER grant to support my lab's research on the credibility of online sources.
September 30, 2017
Wellesley Daily Shot wrote about the Mellon innovation grant and described our work in CS 111.
August 15, 2017
Published a Medium post titled: Presidents in the Klan? SEO techniques to hack history.
August 10, 2017
Wellesley Daily Shot wrote about my recent research.
August 1, 2017
Published a Medium blog post titled: The fake news story that fooled even Maggie Haberman.
July 28, 2017
My summer research students, Emma Lurie '19 and Khonzoda Umarova '20 won the best CS/Math poster prize. Emma was also interviewed for the Daily Shot.
July 21, 2017
Published a Medium blog post titled: Are Women Evil? Hacking Google's earch results.
What am I reading?
In April 2018:
How should a person be?: A Novel from Life by Sheila Heti. This book was one of the books in a list of 15 remarkable books by women that are shaping fiction in the 21st century.
Station Eleven: A Novel by Emily St. John Mandel.
Common Sense, the Turing Test, and the Quest for Real AI: Reflections on Natural and Artificial Intelligence by Hector Levesque.
What's in a word?
The Albanian greeting Përshëndetje has as root the word shëndet, which means health. The entire word: për-shëndet-je means: "to your health". I agree, it is a bit too formal, and also too long to say. My favorite one is the greeting: tungjatjeta, for short: tjeta (in Albanian, "je" is pronounced as "ye" in "yes"). It means may you live longer (t'u-ngjat-jeta). The greeting words in a language are an interesting window into a people's culture. As there are the hidden forces of pragmatics that lead to shortened forms such as "hi" or "ciao" or "allo".