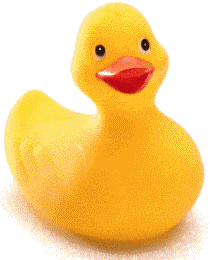 By Agnes Ampadu, Grace Chang, Hanna Kang

Welcome to our webpage for our Wintersession 2001 Robotics Design Studio course. For our final project, we chose to create a miniature car wash. We wanted to include all the different parts actually involved in a real car wash. After taking a visit to Allston Carwash for inspiration, we began building away. Hop in our yellow Bug and drive on over to see the many different parts that make up our project. Please click on the following images for codes and detailed information about the building process.

| | | | |
| --- | --- | --- | --- |
| Attractive Picker-Uppers | Dopey Soapy Bubbles | Misty Water Pumps | Palm Tree Buffers |

Now that you've seen all the different parts that make up our car wash, take a look at the project in its whole form.

| | |
| --- | --- |
| Click image for a description of car wash in action | Click image for a description of us |

Click here for a look Behind the Scenes

Thank you for visiting Rubber Ducky's Car Wash, we hope you will come on through again.